Project update – September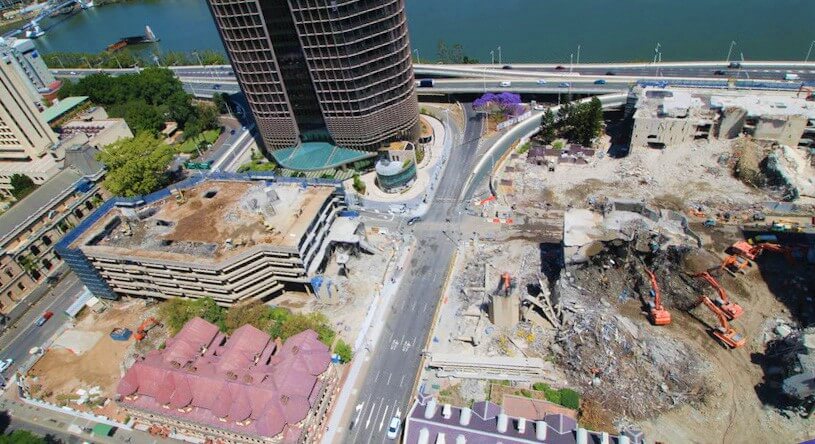 September has welcomed significant change to Brisbane's city skyline with the progress of Queensland's largest development, the multi-billion-dollar Queen's Wharf Brisbane integrated resort development.
The Margaret Street overpass was completely demolished in September leaving only remnants of the Government offices on either side of the road. This significant milestone is a visual marker to the progress of the demolition works which will next see the Neville Bonner building and 80A George Street reach ground level during October.
During the completion of demolition, Destination Brisbane Consortium is expected to announce the contractor for the excavation work that will begin in early 2018.
The Queen's Wharf Brisbane Plan of Development (PoD) has progressed into the Public Notification phase. This means the public now has until the 19th of October to lodge a submission with Economic Development Queensland (EDQ) on our masterplan.
EDQ is expected to deliver their decision on our Plan of Development year's end after the eight-week assessment period. The first deliverables once PoD is approved is the development of Waterline Park and Mangrove Walk between the Goodwill Bridge and behind 1 William Street.
During August and September, Queen's Wharf Brisbane featured heavily in the Courier Mail's Future Brisbane campaign. The Future Brisbane Campaign generated strong discussion and optimism across a two-week spread of compelling statistics and perspectives on how a future Brisbane will look. We are excited by what the future holds for Brisbane. Queen's Wharf is only one of many great developments including Howard Smith Wharfs and the additional runway that will change how we live and play in Brisbane.
Demolition Update:
Completed
Demolition of Margaret Street overpass between 80A and 80B George St
Demolition of 80A to street level
In progress
Demolition of Neville Bonner Building to William St level (Basement will be kept in place to act as retaining system for William St, until shoring is complete ahead of excavation)
Demolition of 80B to be completed by mid-November
Demolition of the Executive Building and Annexe due for completion around the end of the year
For any further questions, please feel free to contact us directly on 1800 104 535 or via our email address qwbenquiries@destinationbrisbane.com.au.