Podium progress as first tower crane comes down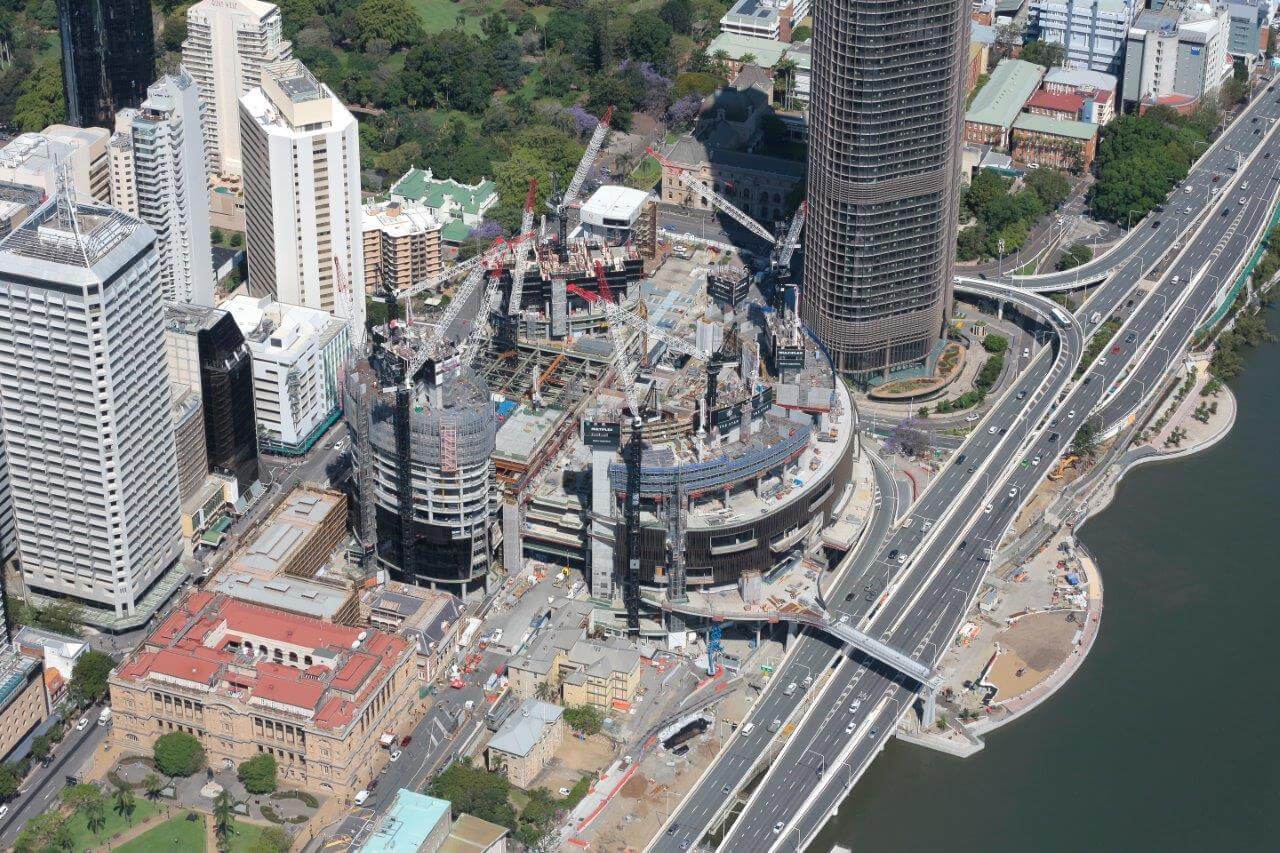 What goes up, must come down – another milestone has been reached with the first crane being removed before Christmas.  
With 12 per cent of all cranes in Brisbane located at Queen's Wharf, the first of 10 cranes is being removed, making way for fit-out and infill works to progress in the basement and podium on the Integrated Resort Development.
The Queen's Wharf podium structure which covers 20,000m2 over six levels is structurally completed, with the next phase of works well underway.
The podium levels will be the entertainment precinct of the resort development, featuring over 50 bars and restaurants and luxury retail.
Multiplex Senior Project Manager Rick Woodford said this milestone is an important one as it allows the next stage of works to continue progressing.
"Over the next 12 months, more cranes will gradually be removed as the project shifts from structural to fit-out, services and finishes works," Mr Woodford said.
"This is the first of 10 cranes to be removed and is currently located where the future Grand Star Ballroom will be.
"Once the crane is removed, works to complete the infill and finishes works can ramp-up.
"Removing a crane is no small feat, with the dismantle being done by a team of experts, including the use of a mobile crane set up over the course of a weekend.
"To safely remove a crane, road closures are required to lift the cabin, tower crane sections and jib onto semi-trailer truck."
Three of the tower cranes currently on-site at Queen's Wharf were part of building the world's tallest tower – the Burj Khalifa in Dubai, United Arab Emirates.
The Favello Favco tower cranes that are being used on the project have a proven track record globally, having installed nine out of 10 of the world's tallest buildings.
Queen's Wharf Brisbane will be a transformational project for our future Olympic city and will open from the first half of 2023.
The $3.6 billion Queen's Wharf Brisbane development is being delivered by Destination Brisbane Consortium – a joint venture led by The Star Entertainment Group alongside its Hong Kong-based partners, Chow Tai Fook Enterprises and Far East Consortium.