On the rise at Queen's Wharf Brisbane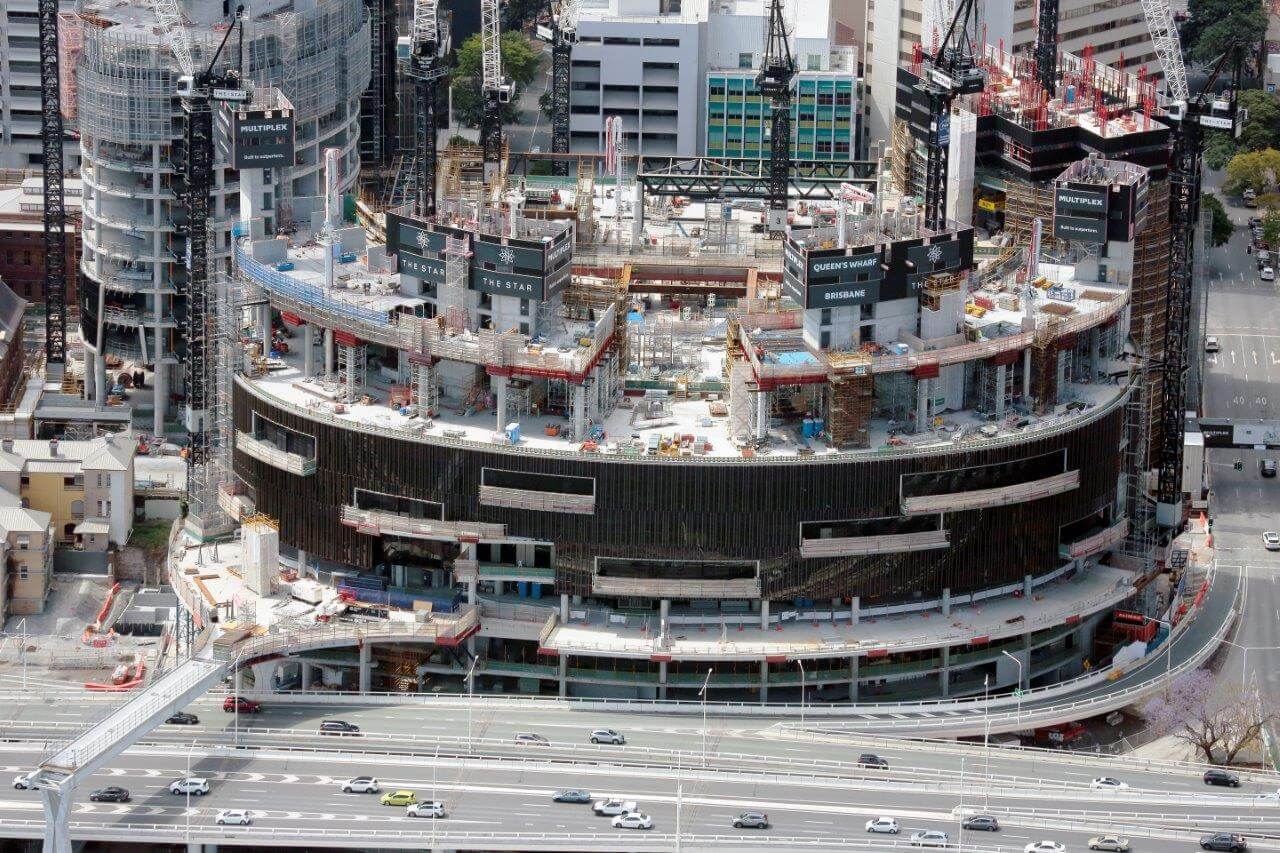 Queen's Wharf Brisbane is making its mark on the city skyline as the podium structure nears completion.
The façade panels have been installed on all but the George St face of the impressive podium structure, which covers close to 20,000m2 per level over six levels.
The rooftop podium will host an impressive mixed-use space with amenities for hotel guests and the public, covering an area of 12,000 square metres, equivalent to over two football fields of green active space.
Above the shining podium façade, construction of The Star Grand hotel is continuing – soon to be home to 340 luxury 5-star hotel rooms showcasing stunning city and river views.
The Dorsett and Rosewood hotel lift cores are now built up to level 21 and the floor slabs up to level 17, near to approaching halfway.
Multiplex Senior Project Manager Rick Woodford said construction of the Integrated Resort Development is progressing well with over 1,000 workers on-site in the basements, podium and tower structures.
"The most visible feature at the moment is the podium façade which is being assembled locally by a South East Queensland business," Rick said.
"The entire podium structure will have 3,000 façade elements installed over the whole area.
"Along with the visible structure that can be seen, fit-out and services trades are continuing in the basement levels which will be the operations heart of the development.
"Underneath the podium structure some exciting building innovations are taking place, including a sophisticated vacuum waste system that will service the entire resort development.
The innovative vacuum waste system will efficiently move general and recycling waste, depositing into a central waste handling facility.
The system is being modelled off the underground vacuum waste networks that service whole communities in Hong Kong, Malaysia, and Korea.
The large spider-like network has recently been installed in the basement levels and will collect waste from the podium and all four towers in the resort development.
Green spaces covering an area of 12,000 square metres, equivalent to over two football fields of space are also being transformed within the development precinct.
Later in the year, a bikeway diversion will be placed along The Landing while works to rejuvenate the future public space take place next on the Brisbane River.
Queen's Wharf Brisbane will be a transformational project for our future Olympic city and will open from the first half of 2023.
The $3.6 billion Queen's Wharf Brisbane development is being delivered by Destination Brisbane Consortium – a joint venture led by The Star Entertainment Group alongside its Hong Kong-based partners, Chow Tai Fook Enterprises and Far East Consortium.