Neville Bonner Bridge works have begun at South Bank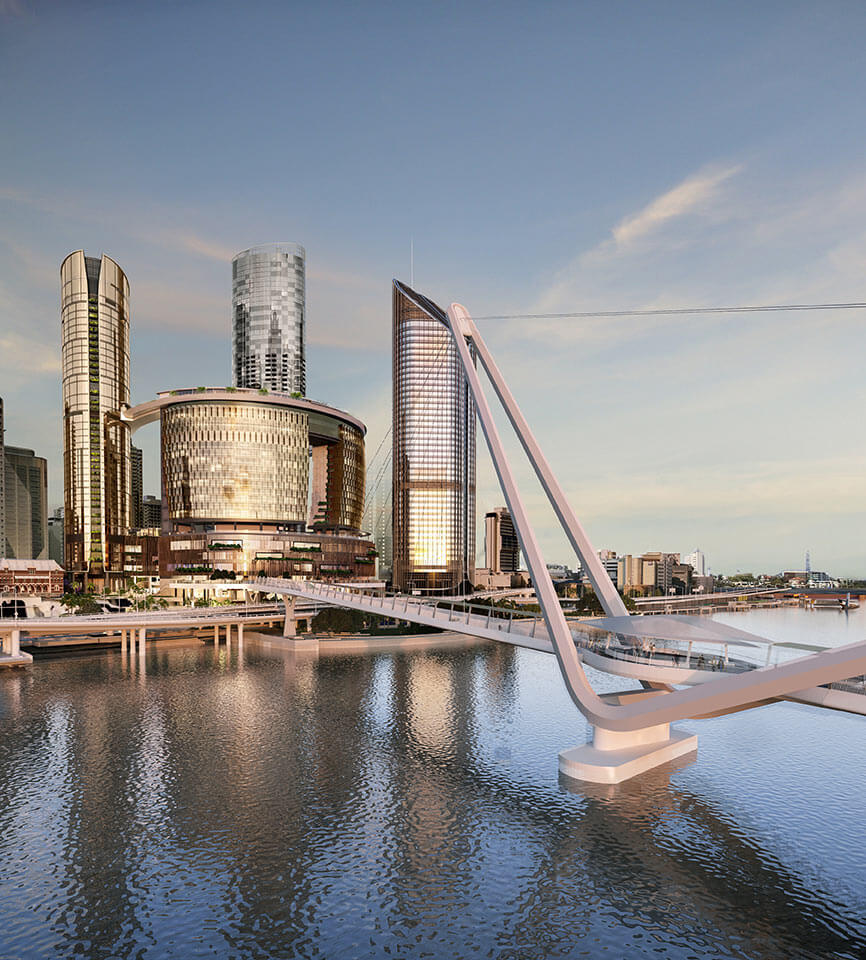 Construction works have begun on the exciting new pedestrian bridge that will connect locals and visitors from Queen's Wharf Brisbane to the vibrant arts and cultural precinct of South Bank.
The Neville Bonner Bridge will become the first bridge across the Brisbane River in more than a decade and will be operational when the development opens, expected in 2022.
As a cable-stayed pedestrian-only bridge, supported by one mid-river pylon, it will stretch 325-metres from the retail, food, and beverage level of our $3.6 billion integrated resort to the cultural forecourt next to The Wheel of Brisbane.
Initial activities have involved fencing around the site compound in the Cultural Forecourt and construction area, situated between The Wheel of Brisbane and the Brisbane River.
This will soon be followed by installing site offices and undertaking investigations that will help identify underground services for future diversion works.
Destination Brisbane Consortium Project Director Simon Crooks said it was exciting milestone to see the start of works on the bridge, which will play a vital role in driving connectivity between the two iconic precincts.
"We have been working in the city for more than three years but now is the first time we will take works over to South Bank, which is a sign that construction is progressing and is on track," Mr Crooks said.
The partially shaded pedestrian bridge has been named in honour of the life and legacy of Australia's first Indigenous parliamentarian, Neville Bonner, and symbolically links Aboriginal and European culture.
It replaces the former Neville Bonner Building, which previously stood in the Queen's Wharf Brisbane Priority Development Area. This building was one of three non-heritage buildings to be demolished prior to construction of Queen's Wharf Brisbane integrated resort development.