Neville Bonner – Behind the scaffolding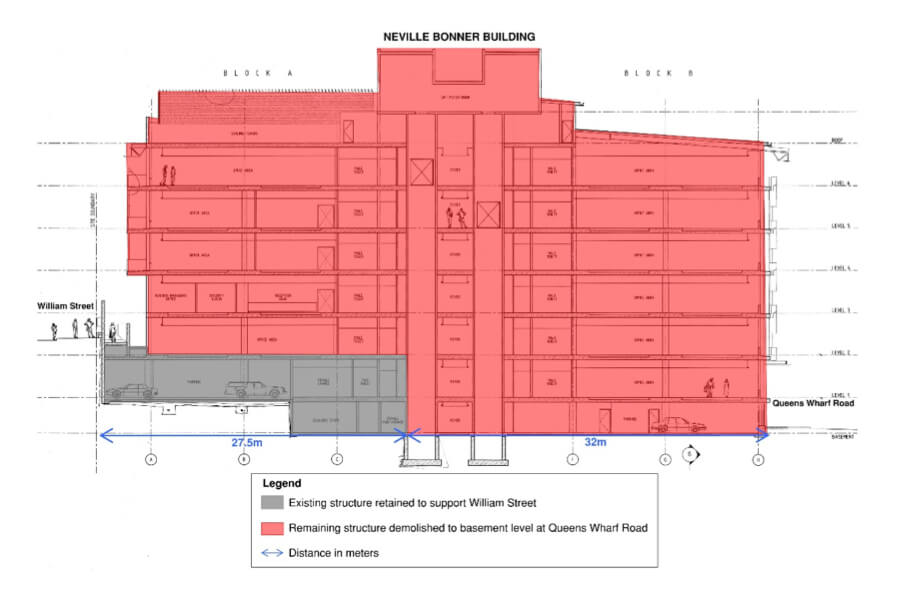 At 75 William Street, demolition work on the former Neville Bonner Building is well underway with most of the work expected to be complete by September 2017.
To date all telecommunications, gas, and electrical services have been isolated and 250 pre-cast concrete sun-louvres have been removed and recycled.
Scaffolding along the building on the Queens Wharf Road and Margaret Street sides are now enabling safe access for the demolition crews to go about their work.
Internal strip out of the building interior is almost complete, and structural demolition of the exterior is now visible to passers by.
The project team is slowly and methodically demolishing the building structure using excavators with hydraulic pulverisers. As each level is removed the scaffolding will be progressively dismantled.
Destination Brisbane Consortium Project Director Simon Crooks said the building's basement will not be demolished just yet.
"Block A (William Street front) will be demolished down to Level 2 for now so that the basement of the building will provide structural support until such a time that shoring is installed and the site will be excavated" he said.
"Block B of the Neville Bonner building – on the river side next to Queens Wharf Road – will be demolished from roof to ground level." (Refer to building diagram below.)
The next phase of work, involving excavation is expected to begin from early 2018, subject to planning approvals.
Click on the link to see a wall come down on the top of the building.