Essential works require temporary Margaret Street lane closure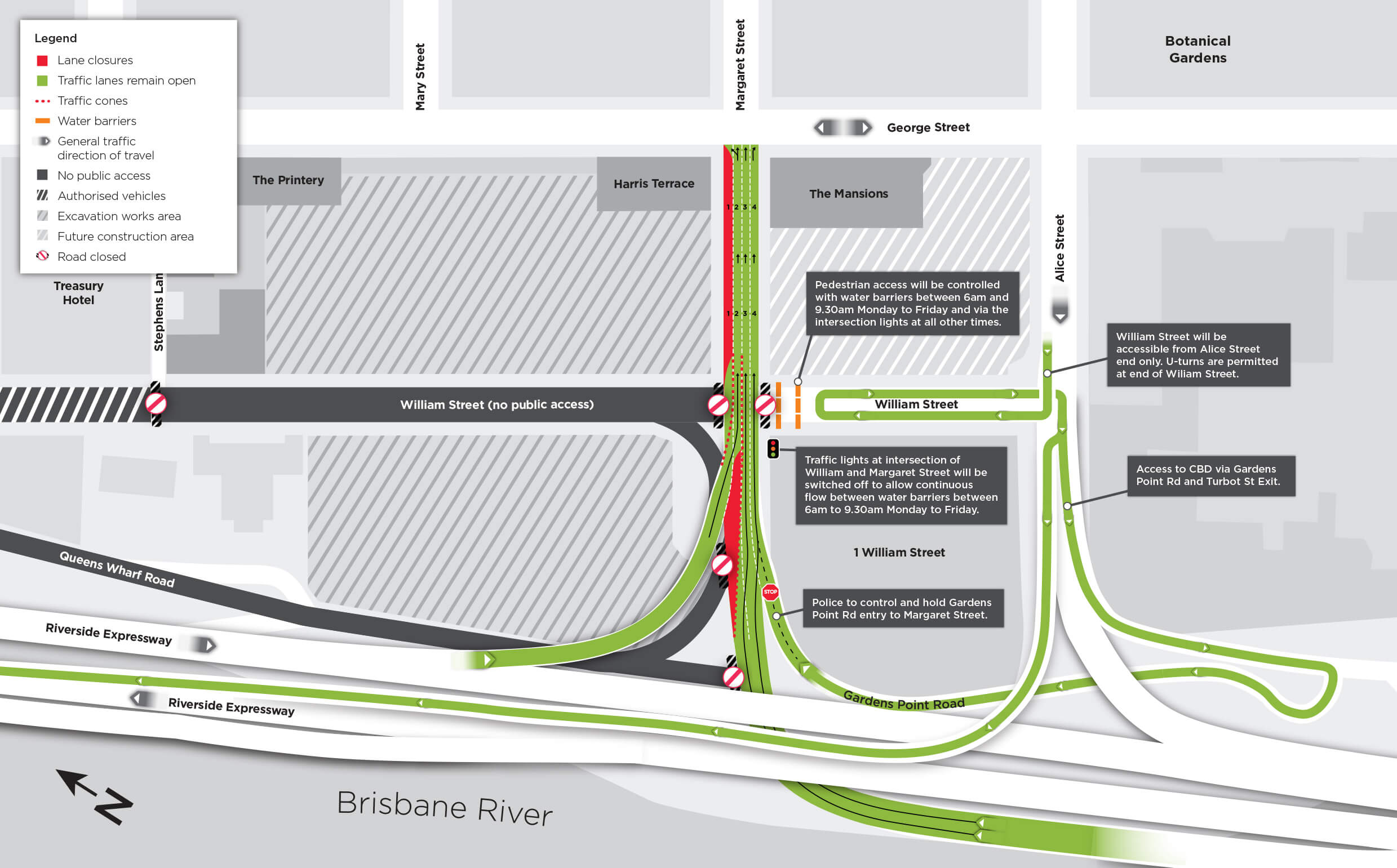 Basement excavation and shoring works on Queensland's largest redevelopment project are progressing well with almost all of the 177 piles complete, with remaining piles expected to be complete in early May.
The piles being installed around the site area form the perimeter for the integrated resort development basement structure.
In March this year, Probuild installed piles along the Margaret Street site perimeter that will eventually form an entrance to the basement carpark.
To complete the piling structural work for the carpark entrance, piling caps are to be installed and require a temporary lane closure of the far-left lane of Margaret Street between William and George Streets.
The temporary lane closure is in place continuously from Monday 30 April until Monday 21 May.
The Riverside Expressway Margaret Street off-ramps will remain open to both north and south bound traffic with north bound traffic reduced to one lane.
To assist with managing the morning peak traffic flow, the lights at Margaret and William Street will be switched off during the morning peak traffic times (6am to 9.30am).
Signage will be in place to notify motorists of the changes.
Probuild Project Manager Greg Sneeden said they would have liked to schedule the work over the Easter Holidays when traffic is typically lighter, however there was a moratorium on lane closures in the CBD during the Commonwealth Games period.
"We appreciate this work inconveniences motorists and for that we apologise, however the lane closure is necessary for the safety of everyone," he said.
"Safety is our number one priority and we need to make sure that when we undertake tasks such as this that no-one is unnecessarily put at risk of harm. We have therefore temporarily closed the far-left lane of Margaret Street, closest to the work area, to allow an exclusion zone for increased safety."
For more information about traffic conditions and changes, visit www.131940.qld.gov.au or call 13 19 40.