Bridging the gap between the city and South Bank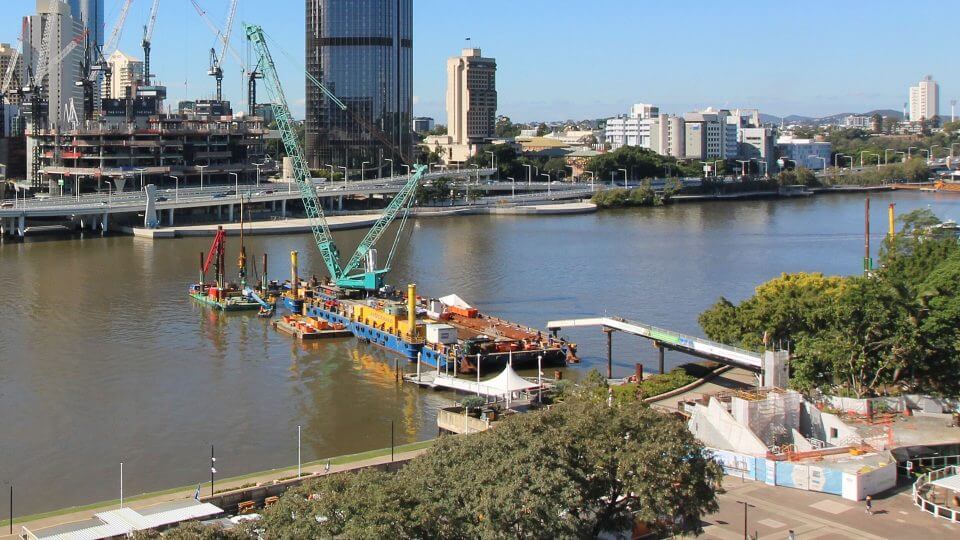 In late-2022 when Queen's Wharf Brisbane opens to the public, the pedestrian-only Neville Bonner Bridge will be one of the key access points to the integrated resort and will provide connectivity between two of the city's greatest entertainment precincts.
Although most of the work on the bridge has not been visible to date, construction started onsite in March 2020 and is about to ramp up with the first bridge deck section to be lifted into position at the South Bank end in mid-June.
Destination Brisbane Consortium Project Director Simon Crooks said the bridge construction had mostly occurred off-site up until now.
"These are prefabricated steel girders and concrete deck modules that Fitzgerald, has been manufacturing off-site and will then transport via barge along the Brisbane River," Mr Crooks said.
"It means the construction impacts on nearby road networks and businesses have been minimised as much as possible."
The first deck section is a 27 metre long, 40 tonne section that will eventually connect with an additional 11 deck sections to form the first pedestrian bridge to be built in Brisbane in more than 10 years.
The first bridge deck will extend from the bridge abutment at South Bank, currently under construction, over the Clem Jones Promenade, and protrude by more than seven metres in length over the river.
The second bridge section to be lifted in to position will be the deck section over the Riverside Expressway, which connects from level 4 of the integrated resort development to the bridge pier that sits on the suspended public realm on the city side of the river.
For the section above the Riverside Expressway to be lifted into position, temporary lane closures will be necessary, which will be communicated to motorists closer to the time.
By mid-2022, all the deck sections for the Neville Bonner Bridge will be complete, however it won't be completely finished until just before the integrated resort's official opening in late-2022.
To stay informed about construction impacts, please subscribe for our construction updates via www.queenswharfbrisbane.com.au – Stay informed.