30 tonnes of steel used to secure heritage buildings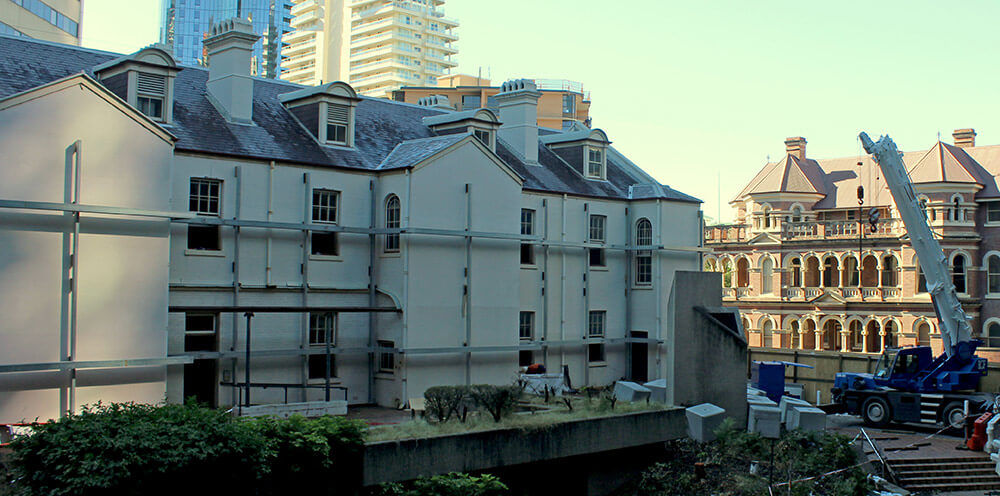 Queen's Wharf Brisbane has the most significant cluster of heritage buildings in Queensland and it's not a responsibility taken lightly.
Although the buildings have held up well over time, there is some surface cracking to the exterior of two of the buildings so Destination Brisbane Consortium has taken the precautionary approach of applying bracing to protect these heritage treasures.
More than 30 tonnes of steel is now providing a protective frame around the exterior of Harris Terrace on George St and the former Department of Primary Industries building on William St.
Destination Brisbane Consortium Project Director Simon Crooks said the bracing is designed to keep the buildings secure and stable ahead of heavy demolition and excavation work starting on the Queen's Wharf Brisbane project.
"Once assembled, the frames were lifted into position using 25 tonne and 80 tonne mobile cranes, elevated work platforms, knuckle booms and manual scissor lifts.
"The frame was then secured to the existing building façade using specially designed metal anchoring screws and tie rods to hold the steel frames in place.
"Neoprene rubber strips were also installed between the steel beams and the exterior to protect the buildings from any damage or abrasion from the bracing."
The bracing will remain in place until the excavation phase of the project is complete.
The repurposed former Department of Primary Industries building and Harris Terrace will be open for the public to enjoy, along with the rest of the Queen's Wharf Brisbane integrated resort development, expected in 2022.